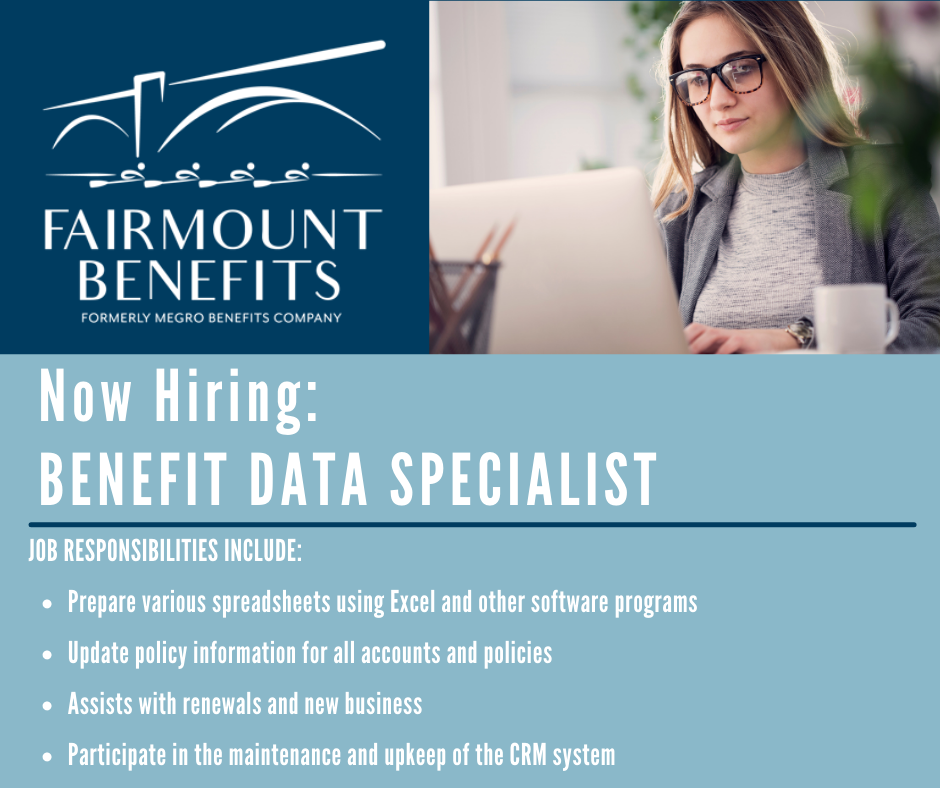 The team at Fairmount Benefits is looking for a new Benefit Data Specialist. Join our team by reading the job description below and then following the link to apply.
Job Description
Position/Title:
Benefit Data Specialist
Department:
Ben Admin
Reports to:
Team Leader
FLSA Status:
 Non-Exempt
Summary:
The Benefit Data Specialist supports benefit administration portal and client management by assisting with group enrollment, renewal processes and additional administrative functions that are designed to improve and enhance workflows, timeliness, and client responsiveness.
Essential Duties and Responsibilities (include but are not limited to):
Prepare various spreadsheets using Excel and other software programs.
Update policy information for all accounts and policies
Assists with renewals and new business
Provides excellent service to customers concerning their enrollment needs, and ancillary questions via phone, fax, email or face-to-face contact.  Activities will include but are not limited to:

Contact the client for additional or missing information.
Follow up with the carrier to obtain status updates.
Processing of all group enrollment forms, change forms and ancillary requests (once missing information is received).
Thorough documentation of all calls/emails, work effort and related problem resolution in the group service tickets.

Ensure the protection and security of a consumer's personal, confidential, and identifiable information in a professional and responsible manner, according to the standards and requirements of the Health Insurance Portability and Accountability Act (HIPAA).
Contribute to overall team goals and objectives through team participation and the sharing of individual skills and strengths.
Participate in the maintenance and upkeep of the CRM system.
Perform other ad hoc duties as assigned.
Qualifications, Skills and Requirements:
Proficient in Microsoft suite including Microsoft Word, Excel, and Outlook
Strong attention to detail
Positive, can-do attitude
Self-motivated, flexible, and disciplined
Ability to work independently as well as in team environment
Excellent verbal and written communication skills
Strong organizational skills
Ability to thrive in fast-paced environment
Strong time management skills and ability to multi-task
Expert listening skills and ability to identify customer needs and identify appropriate issue resolution
Education, Training and Experience:
Proficient with Microsoft Office products, required
Prior experience in broker agency or benefit administration firm, preferred
Familiarity with insurance carrier websites, preferred
Proven track record in customer service; preferred
Bachelor's Degree, preferred
Minimum college degree or 2+ years of applicable job experience will be considered
Familiarity with database applications, a plus