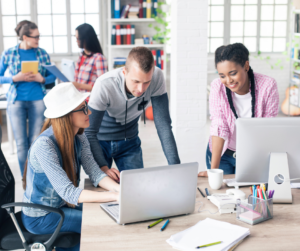 American workers were willing to depart their jobs for greener pastures during the "Great Resignation." Unfortunately, one of the contributing factors to the record quit rate was toxic workplaces. For many companies, this reshuffle was a wakeup call to re-examine workplace culture and create an environment that people are excited to join.
Research shows that a dynamic and positive company culture attracts, retains, and engages employees.
While there is no "one size fits all" formula, you can take steps to ensure you are attracting and supporting employees who will contribute to a positive workplace culture.
Assess character and attitude in interviews.
Make it a priority to hire "culture builders." A good colleague offers more than just a polished resume and applicable skills. People do not want to work with negative people no matter how much they produce or business they bring in. Recruiters and hiring managers can add behavioral questions to the screening process that demonstrate attitude and values. If using an interview scorecard, make sure these items are given fair weight in evaluating candidates. Character and attitude are also great topics to touch on when checking employment references.
Invest in leadership training.
SHRM's 2019 study, "The High Cost of a Toxic Workplace Culture: How Culture Impacts the Workforce—and the Bottom Line," showed a high correlation between toxic workplaces and managers. Over half of respondents who left a job due to workplace culture identified their manager as the cause of their departure.
Managers strongly influence the tone and behavior of the team and should model the correct kind of behavior. Ongoing leadership education is a good way to communicate best practices and company culture. And don't forget to include all types of leaders: people managers, project managers, and colleagues.
Make transparent communication a standard.
One way to ensure employees feel valued is to communicate with them consistently and regularly. Transparent communication builds trust with employees and supports a team environment where all are supporting the company's strategic objectives. This can include making information available on everything from company goals to performance standards to knowledge sharing across departments, enabling all to do their job better. Take it one step further and celebrate examples of solid communication.
Companies can proactively create a place in which employees thrive. The best way to fight a toxic workplace culture is to build a great place to work.
© UBA. All rights reserved.